Shedding light on haze
CIFOR engages with politicians and the media to tackle fire and haze in Indonesia
Fires are an annual event in Indonesia's peatlands and forests. But deforestation and previous burning now make the landscape more fire prone than ever. Some 2.6 million hectares of forest are reported to have been burned in Borneo and Sumatra in 2015, and 43 million people on Sumatra and Kalimantan to have been exposed to toxic smoke. Severe air pollution has affected Singapore and Malaysia.
CIFOR has been deeply involved in researching the causes and consequences of the annual fires for several years. In 2015 we significantly stepped up our direct engagement with policy makers and media, as well as researchers and practitioners, at sub-national, national and international levels.
CIFOR Scientist Herry Purnomo used primetime television interviews and live dialogues on Indonesian channels Metro TV, Kompas TV, Net TV, TV One, as well as an article in The Conversation, to bring scientific rigor to the debate. CIFOR and its scientists were cited 1890 times in national and international media between August and December 2015, while CIFOR Director General Peter Holmgren was interviewed on BBC World Service's NewsDay and Bloomberg TV's Trending Business.
"What's clear is that the economic impact of fires… is going to far outweigh the benefits of expanding agricultural land."
Direct engagement with government ministers and policy makers was a focus of CIFOR's work in 2015. Three days of workshops with the Minister of Environment and Forestry to present the results of CIFOR's studies, and presentations to the Parliamentary Commission during October 2015 are the start of closer collaboration between CIFOR and the Indonesian government on the fires. In December 2015, CIFOR and University of Riau facilitated the development of Forum Negeri Bersih Jerebu (Haze-free Multistakeholder Forum) to collectively act to prevent fire and haze in the future.
2.6
MILLION HA
Area of forest affected by fires in 2015 in Indonesia
43
MILLION
Number of people exposed to toxic smoke in Sumatra & Kalimantan
10
MILLION VIEWERS
potential audience of CIFOR primetime news interview on Metro TV
1930
PAGE VIEWS
of Fire & haze blog site January–December 2015
CIFOR advances human well-being, environmental conservation and equity by conducting research to help shape policies and practices that affect forest landscapes in developing countries. CIFOR is a member of the CGIAR Consortium. Our headquarters are in Bogor, Indonesia, with offices in Asia, Africa and Latin America.
Research for impact
CIFOR leads the CGIAR Research Program on Forests, Trees and Agroforestry.
foreststreesagroforestry.org

CIFOR is also a member of the CGIAR Research Program on Climate Change, Agriculture and Food Security (CCAFS).
ccafs.cgiar.org
---
Flagship projects
Partners and processes
In 2015, CIFOR and its stakeholders benefited from:
---
CIFOR and its partners contribute to the following global processes, frameworks, panels and conventions:

Publications
Demand from stakeholders for CIFOR's research grew at an unprecedented pace this year. In 2015 we disseminated more than 62,000 knowledge products at events, meetings and on request.
326k
visits through Google Books
25% increase from 2014
---
Numbers
4284
media articles about CIFOR
883k
views of Forests News stories
77% increase compared to 499,000 views in 2014
15.7
million people reached with #GLFCOP21 tweets
127% increase compared to #GLFCOP20 tweets
28
major events organized or supported

3
Webometric ranking of CIFOR.org among CGIAR centers, up 4 places from 2014
17%
increase in cumulative PDF downloads
---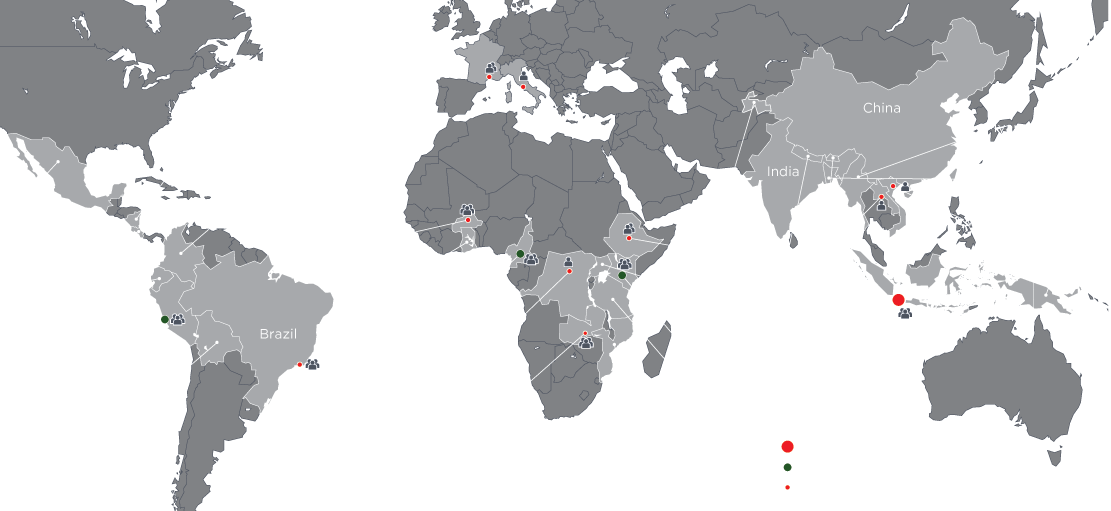 CIFOR's research is designed to have a far reach, aiming to inform policy and effect real change on the ground. We foster a strong "impact culture" through:
Each year, CIFOR's scientific findings reach more people through a communications strategy that combines journalistic approaches, social media and science communication.
35,200
total Facebook likes, 24% increase
37,733
Twitter followers, 41% increase
7.5
million
photo views on Flickr, 56% increase
564k
cumulative video views on YouTube, 36% increase
5227
LinkedIn followers, 39% increase

Top

5%

of Most-Viewed on SlideShare, with over 237k views, 42% increase
DOWNLOADS
visits through Google Books
25% increase from 2014
citations per day