Effective research on forests and climate change mitigation
Providing evidence, tools and analysis to support REDD+ policy making
Accounting for 10% of all greenhouse gas emissions globally, deforestation represents a major contributor to climate change. In an effort to tackle this problem, many countries plan to adopt policies aimed at reducing emissions from deforestation and forest degradation (known as REDD+).
The UN, World Bank and many donors support REDD+ pilot initiatives in developing countries. With more than 330 REDD+ initiatives underway there are many varied approaches to the issue.
"CIFOR's step-wise approach has become the main method used to guide countries to improve their capacity to carry out REDD+ programs."
Since 2008, CIFOR's Global Comparative Study on REDD+ has examined this experience in 15 tropical forest countries. Researchers have studied how REDD policy is made; analyzed the media debates about it; investigated the effects of REDD+ pilot projects on people's livelihoods and forest carbon; studied how baselines, monitoring and accounting systems are established; and examined the ways REDD+ is integrated with broader development objectives.
In 2014 and 2015, a team from the Overseas Development Institute, Royal Roads University and CIFOR carried out a joint evaluation of the Global Comparative Study of REDD+. According to the report, released in October 2015, CIFOR's research provided key recommendations that informed the international climate negotiations towards a global REDD+ agreement; was used in the design and implementation of national-level REDD+ activities, and helped increase the efficiency and effectiveness of national-level REDD+ policies in several countries.
CIFOR is now recognized as a top source of sound evidence, integrated analysis and tools to help policy makers and practitioners design REDD+ mechanisms that are effective, efficient and equitable, and that are integrated with other development objectives.
>330
REDD+ initiatives globally
>350
papers produced to date from the Global Comparative Study
CIFOR advances human well-being, environmental conservation and equity by conducting research to help shape policies and practices that affect forest landscapes in developing countries. CIFOR is a member of the CGIAR Consortium. Our headquarters are in Bogor, Indonesia, with offices in Asia, Africa and Latin America.
Research for impact
CIFOR leads the CGIAR Research Program on Forests, Trees and Agroforestry.
foreststreesagroforestry.org

CIFOR is also a member of the CGIAR Research Program on Climate Change, Agriculture and Food Security (CCAFS).
ccafs.cgiar.org
---
Flagship projects
Partners and processes
In 2015, CIFOR and its stakeholders benefited from:
---
CIFOR and its partners contribute to the following global processes, frameworks, panels and conventions:

Publications
Demand from stakeholders for CIFOR's research grew at an unprecedented pace this year. In 2015 we disseminated more than 62,000 knowledge products at events, meetings and on request.
326k
visits through Google Books
25% increase from 2014
---
Numbers
4284
media articles about CIFOR
883k
views of Forests News stories
77% increase compared to 499,000 views in 2014
15.7
million people reached with #GLFCOP21 tweets
127% increase compared to #GLFCOP20 tweets
28
major events organized or supported

3
Webometric ranking of CIFOR.org among CGIAR centers, up 4 places from 2014
17%
increase in cumulative PDF downloads
---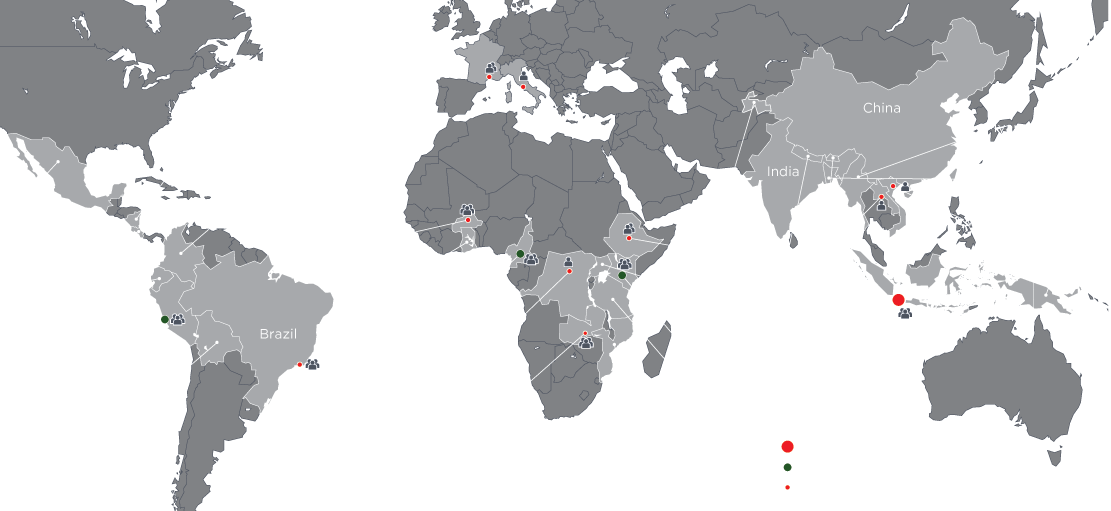 CIFOR's research is designed to have a far reach, aiming to inform policy and effect real change on the ground. We foster a strong "impact culture" through:
Each year, CIFOR's scientific findings reach more people through a communications strategy that combines journalistic approaches, social media and science communication.
35,200
total Facebook likes, 24% increase
37,733
Twitter followers, 41% increase
7.5
million
photo views on Flickr, 56% increase
564k
cumulative video views on YouTube, 36% increase
5227
LinkedIn followers, 39% increase

Top

5%

of Most-Viewed on SlideShare, with over 237k views, 42% increase
DOWNLOADS
visits through Google Books
25% increase from 2014
citations per day