Developing capacity around wetlands
New toolboxes from CIFOR's SWAMP support better decision making about wetlands.
Mangroves, peatlands, swamps – tropical wetlands are among the most productive ecosystems in the world and yet are some of the least understood. Communities depend on them for food security; they shelter essential fish stocks and a multitude of other species of plants and animals. Mangroves protect vulnerable coastlines from tidal surges, while their carbon stocks are among the highest of any forest type in the world. And yet, despite the contribution they can make to environmental and food security, climate adaptation and mitigation, most countries have insufficient information to include them in national climate reporting to the United Nations, and to adequately manage them.
Through the Sustainable Wetlands Adaptation and Mitigation Program (SWAMP), CIFOR is working with people in 25 countries to fill this information gap. The Program has already trained 300 people to enable them to quantify greenhouse gas emissions, develop modelling tools and build capacity among policy makers, resource management practitioners and scientific communities. It is a network of 200 scientists around the world.
"CIFOR has made a seminal contribution to below-ground carbon quantification and to putting wetlands, especially mangrove ecosystems, on the policy agenda."
With more than 50% of tropical peatlands occurring in Indonesia, the Indonesia Peatlands Network (IPN) focuses on improving academic capacity to understand tropical peatlands, and raising awareness among policy makers of their importance.
To make resources widely available, in 2015 CIFOR released the SWAMP Toolbox and the IPN Toolbox. These e-learning modules contain presentations and videos for policy makers and the public, and use simple language to ensure information is accessible to a broad audience. IPN also provided funding for Indonesian students to study and publish on peatlands.
3067
pageviews of SWAMP toolbox
2581
pageviews of IPN toolbox
CIFOR advances human well-being, environmental conservation and equity by conducting research to help shape policies and practices that affect forest landscapes in developing countries. CIFOR is a member of the CGIAR Consortium. Our headquarters are in Bogor, Indonesia, with offices in Asia, Africa and Latin America.
Research for impact
CIFOR leads the CGIAR Research Program on Forests, Trees and Agroforestry.
foreststreesagroforestry.org

CIFOR is also a member of the CGIAR Research Program on Climate Change, Agriculture and Food Security (CCAFS).
ccafs.cgiar.org
---
Flagship projects
Partners and processes
In 2015, CIFOR and its stakeholders benefited from:
---
CIFOR and its partners contribute to the following global processes, frameworks, panels and conventions:

Publications
Demand from stakeholders for CIFOR's research grew at an unprecedented pace this year. In 2015 we disseminated more than 62,000 knowledge products at events, meetings and on request.
326k
visits through Google Books
25% increase from 2014
---
Numbers
4284
media articles about CIFOR
883k
views of Forests News stories
77% increase compared to 499,000 views in 2014
15.7
million people reached with #GLFCOP21 tweets
127% increase compared to #GLFCOP20 tweets
28
major events organized or supported

3
Webometric ranking of CIFOR.org among CGIAR centers, up 4 places from 2014
17%
increase in cumulative PDF downloads
---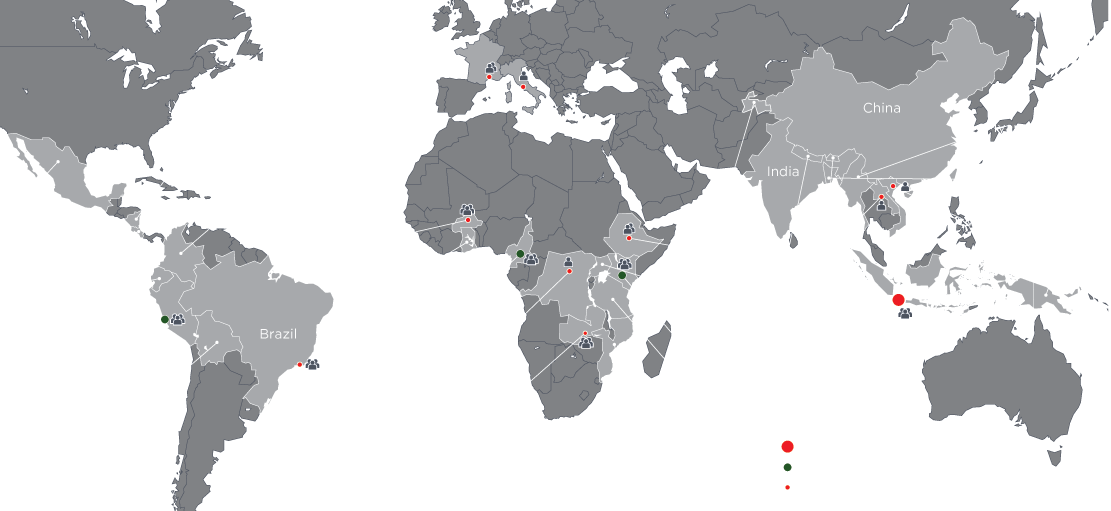 CIFOR's research is designed to have a far reach, aiming to inform policy and effect real change on the ground. We foster a strong "impact culture" through:
Each year, CIFOR's scientific findings reach more people through a communications strategy that combines journalistic approaches, social media and science communication.
35,200
total Facebook likes, 24% increase
37,733
Twitter followers, 41% increase
7.5
million
photo views on Flickr, 56% increase
564k
cumulative video views on YouTube, 36% increase
5227
LinkedIn followers, 39% increase

Top

5%

of Most-Viewed on SlideShare, with over 237k views, 42% increase
DOWNLOADS
visits through Google Books
25% increase from 2014
citations per day