Elucidating the impacts of zero deforestation
Our research examines the implications of private sector commitments to zero deforestation in the context of wider public and private institutional arrangements
Over the past 30 years, demand for agricultural commodities has increased, which has expanded production frontiers and driven deforestation. Recently some of the world's largest consumer goods companies have committed to eliminating deforestation from their supply chains. This bold step puts pressure on producers and processors of key commodities, notably soy, beef and palm oil, to embrace zero deforestation commitments as well.
Zero deforestation pledges may offer a way to halt deforestation if they are implemented effectively. Yet they also create risks for smallholders, who may be excluded from global value chains by the high costs and operational challenges of demonstrating that their production is deforestation free. Conversely, companies may be willing to support smallholders to upgrade their production systems to meet zero deforestation commitments. There are questions too about how governments can support these pledges while retaining national sovereignty in decisions about land governance, economic growth and poverty alleviation.
"Solving this multifaceted puzzle requires a collaborative approach: bringing together public and private initiatives and pooling finance. Neither public rules nor private commitments must dictate the rules of the game."
In 2015, CIFOR started to examine the scope and implications of corporate zero deforestation commitments. We are evaluating private sector efforts to deliver sustainable production that is both deforestation-free and inclusive of smallholders in the context of broader institutional arrangements. In March 2015 CIFOR convened a panel on zero deforestation in Indonesia at the World Bank Conference on Land and Poverty, involving KADIN, SNV and CIFOR. With the Tropical Forest Alliance 2020 we also convened a discussion forum at GLF 2015 in December 2015 with a focus on oil palm in Indonesia, involving the Indonesian Chamber of Commerce, Musim Mas, Greenpeace and Unilever.
188
COMPANIES
in Indonesian palm oil sector have made sustainability commitments
61
COMPANIES
have made commitments on zero deforestation
42%
TOTAL OIL PALM
area cultivated by smallholders
CIFOR advances human well-being, environmental conservation and equity by conducting research to help shape policies and practices that affect forest landscapes in developing countries. CIFOR is a member of the CGIAR Consortium. Our headquarters are in Bogor, Indonesia, with offices in Asia, Africa and Latin America.
Research for impact
CIFOR leads the CGIAR Research Program on Forests, Trees and Agroforestry.
foreststreesagroforestry.org

CIFOR is also a member of the CGIAR Research Program on Climate Change, Agriculture and Food Security (CCAFS).
ccafs.cgiar.org
---
Flagship projects
Partners and processes
In 2015, CIFOR and its stakeholders benefited from:
---
CIFOR and its partners contribute to the following global processes, frameworks, panels and conventions:

Publications
Demand from stakeholders for CIFOR's research grew at an unprecedented pace this year. In 2015 we disseminated more than 62,000 knowledge products at events, meetings and on request.
326k
visits through Google Books
25% increase from 2014
---
Numbers
4284
media articles about CIFOR
883k
views of Forests News stories
77% increase compared to 499,000 views in 2014
15.7
million people reached with #GLFCOP21 tweets
127% increase compared to #GLFCOP20 tweets
28
major events organized or supported

3
Webometric ranking of CIFOR.org among CGIAR centers, up 4 places from 2014
17%
increase in cumulative PDF downloads
---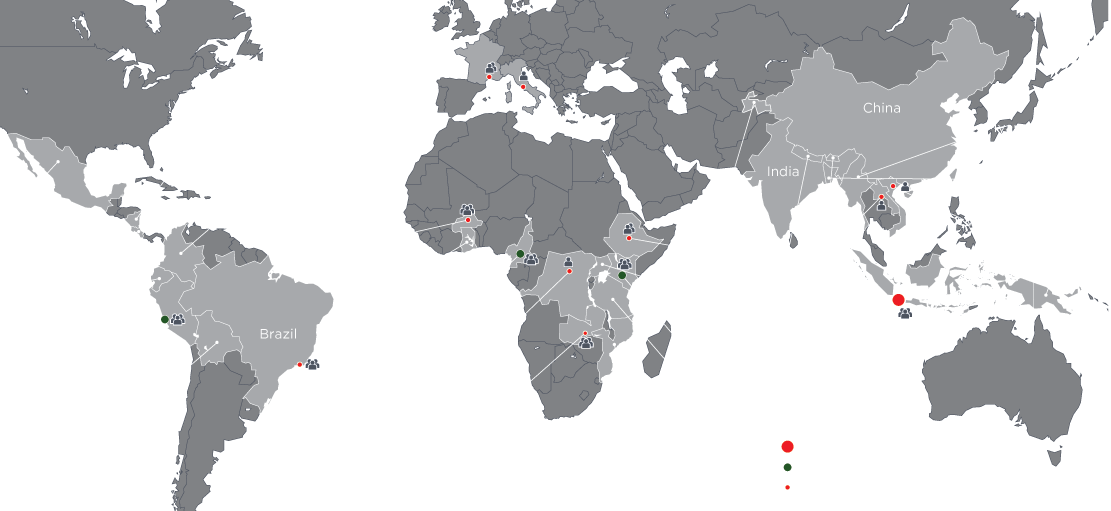 CIFOR's research is designed to have a far reach, aiming to inform policy and effect real change on the ground. We foster a strong "impact culture" through:
Each year, CIFOR's scientific findings reach more people through a communications strategy that combines journalistic approaches, social media and science communication.
35,200
total Facebook likes, 24% increase
37,733
Twitter followers, 41% increase
7.5
million
photo views on Flickr, 56% increase
564k
cumulative video views on YouTube, 36% increase
5227
LinkedIn followers, 39% increase

Top

5%

of Most-Viewed on SlideShare, with over 237k views, 42% increase
DOWNLOADS
visits through Google Books
25% increase from 2014
citations per day