Bringing hunting into the light
CIFOR works with hunters in Colombia to support sustainable hunting and trade in bushmeat
In Colombia – as in many countries – bushmeat is an important source of food for indigenous and rural communities. Not only providing the basis for traditional dishes, bushmeat can be important for food security and nutrition. And while hunting for family consumption at a subsistence level is permitted, a hunter who sells meat is breaking the law. It doesn't stop the trade – people need income to pay for food, schools and medical care. But it creates an underground hunting culture that is difficult to monitor and manage, leaving wildlife populations essentially unprotected.
With the help of CIFOR scientists and Colombia's Fundación Sí, hunters in Colombia are trying to bring the bushmeat trade into the light. A first step in sustainably managing wildlife populations is to monitor the level of harvest. An innovative phone app, developed by CIFOR team member François Sandrin, is one way for hunters to collectively record, collate and analyse hunting data, and to understand changing wildlife population levels.
"We are interested in knowing how many animals there are in our territory. People say we hunters are killing off all the animals, but that's not true."
Persuading the government to trust hunters and change the law on the sale of bushmeat requires a different approach. In October 2015, hunters, conservation organisations and government officials gathered at a workshop in the Amazonia town of Leticia, near the border between Colombia, Brazil and Peru, to discuss how the law could enable hunters to manage, hunt and sell bushmeat. The hunters themselves proposed guidance for carrying out environmental impact studies of hunting, as well as methods to monitor and estimate wildlife population levels.
150k
TONS/YEAR
estimated rural consumption of bushmeat in the Amazon
27
SPECIES
traded and hunted in Colombia
473
TONS
estimated annual trade in bushmeat in five Amazonian trifrontier towns
CIFOR advances human well-being, environmental conservation and equity by conducting research to help shape policies and practices that affect forest landscapes in developing countries. CIFOR is a member of the CGIAR Consortium. Our headquarters are in Bogor, Indonesia, with offices in Asia, Africa and Latin America.
Research for impact
CIFOR leads the CGIAR Research Program on Forests, Trees and Agroforestry.
foreststreesagroforestry.org

CIFOR is also a member of the CGIAR Research Program on Climate Change, Agriculture and Food Security (CCAFS).
ccafs.cgiar.org
---
Flagship projects
Partners and processes
In 2015, CIFOR and its stakeholders benefited from:
---
CIFOR and its partners contribute to the following global processes, frameworks, panels and conventions:

Publications
Demand from stakeholders for CIFOR's research grew at an unprecedented pace this year. In 2015 we disseminated more than 62,000 knowledge products at events, meetings and on request.
326k
visits through Google Books
25% increase from 2014
---
Numbers
4284
media articles about CIFOR
883k
views of Forests News stories
77% increase compared to 499,000 views in 2014
15.7
million people reached with #GLFCOP21 tweets
127% increase compared to #GLFCOP20 tweets
28
major events organized or supported

3
Webometric ranking of CIFOR.org among CGIAR centers, up 4 places from 2014
17%
increase in cumulative PDF downloads
---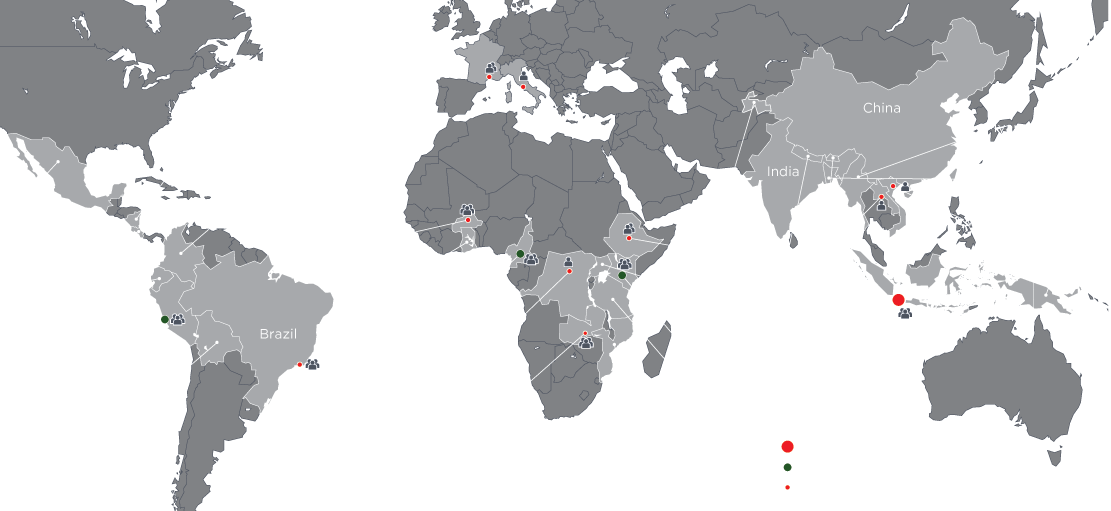 CIFOR's research is designed to have a far reach, aiming to inform policy and effect real change on the ground. We foster a strong "impact culture" through:
Each year, CIFOR's scientific findings reach more people through a communications strategy that combines journalistic approaches, social media and science communication.
35,200
total Facebook likes, 24% increase
37,733
Twitter followers, 41% increase
7.5
million
photo views on Flickr, 56% increase
564k
cumulative video views on YouTube, 36% increase
5227
LinkedIn followers, 39% increase

Top

5%

of Most-Viewed on SlideShare, with over 237k views, 42% increase
DOWNLOADS
visits through Google Books
25% increase from 2014
citations per day