The Sahelian nexus of forests, food and gender
CIFOR's research highlights the links between forest restoration and women's role in improving food security
Forests in the traditional mosaic landscapes of Burkina Faso have long provided fuelwood, fodder, nuts and leaves to sustain communities between harvests. But as these areas shrink due to human pressures, the burden grows heavier for women, who traditionally use forest resources to fill the food gap when the granaries are empty and the rains unpredictable.
"I don't have the money to do big business, so my main activity is preparing soumbala from néré pods."
In response, the local non-governmental organization Tiipaalga has encouraged families to enclose just 3 ha of land. These tiny plots then undergo a remarkable transformation, regenerating natural and planted species very quickly. A study led by CIFOR scientists Houria Djoudi and Nadia Djenontin found that families with these plots suffered fewer food-insecure days over the year. It also revealed that the foods women harvest from these plots not only complete their families' meals, they also provide essential nutrients – a critical safety net during uncertain times.
CIFOR's researchers worked with farmers to learn the lessons from Tiipaalga's work and to bring that knowledge to other villages in Burkina Faso through farmer exchange visits. As new villages have begun enclosing plots and planting trees, gender dynamics have begun to shift. In a break from tradition, women are speaking up to ensure that trees like the néré (African locust bean), whose nutritious pods help sustain the family, are included in the village choices.
CIFOR advances human well-being, environmental conservation and equity by conducting research to help shape policies and practices that affect forest landscapes in developing countries. CIFOR is a member of the CGIAR Consortium. Our headquarters are in Bogor, Indonesia, with offices in Asia, Africa and Latin America.
Research for impact
CIFOR leads the CGIAR Research Program on Forests, Trees and Agroforestry.
foreststreesagroforestry.org

CIFOR is also a member of the CGIAR Research Program on Climate Change, Agriculture and Food Security (CCAFS).
ccafs.cgiar.org
---
Flagship projects
Partners and processes
In 2015, CIFOR and its stakeholders benefited from:
---
CIFOR and its partners contribute to the following global processes, frameworks, panels and conventions:

Publications
Demand from stakeholders for CIFOR's research grew at an unprecedented pace this year. In 2015 we disseminated more than 62,000 knowledge products at events, meetings and on request.
326k
visits through Google Books
25% increase from 2014
---
Numbers
4284
media articles about CIFOR
883k
views of Forests News stories
77% increase compared to 499,000 views in 2014
15.7
million people reached with #GLFCOP21 tweets
127% increase compared to #GLFCOP20 tweets
28
major events organized or supported

3
Webometric ranking of CIFOR.org among CGIAR centers, up 4 places from 2014
17%
increase in cumulative PDF downloads
---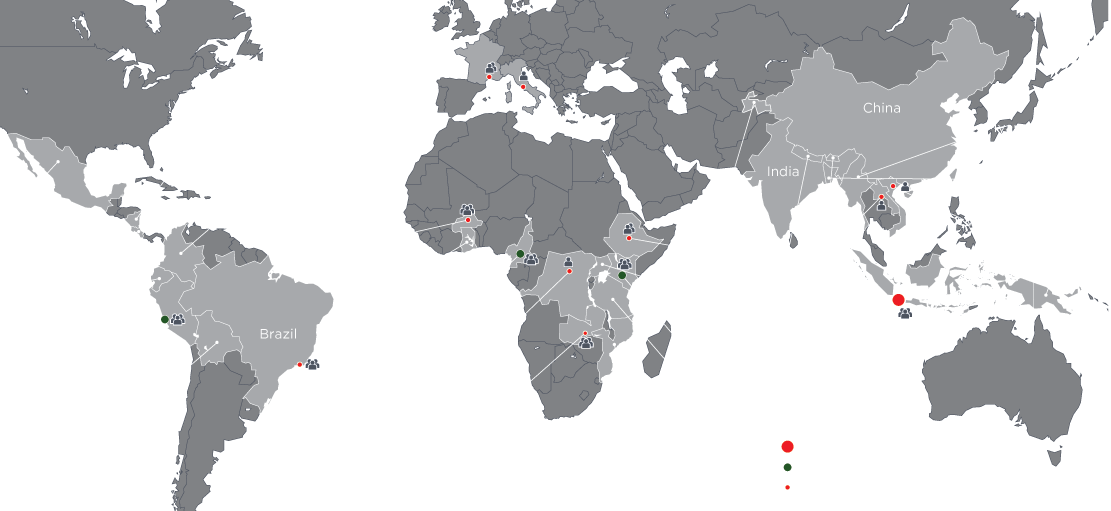 CIFOR's research is designed to have a far reach, aiming to inform policy and effect real change on the ground. We foster a strong "impact culture" through:
Each year, CIFOR's scientific findings reach more people through a communications strategy that combines journalistic approaches, social media and science communication.
35,200
total Facebook likes, 24% increase
37,733
Twitter followers, 41% increase
7.5
million
photo views on Flickr, 56% increase
564k
cumulative video views on YouTube, 36% increase
5227
LinkedIn followers, 39% increase

Top

5%

of Most-Viewed on SlideShare, with over 237k views, 42% increase
DOWNLOADS
visits through Google Books
25% increase from 2014
citations per day