Tackling forest loss on multiple fronts
CIFOR is working with multiple partners to build capacity and manage forested landscapes in the Democratic Republic of Congo
The Democratic Republic of Congo (DRC) is home to 125 million hectares of forest that occupy 60% of the country's land area, provide livelihoods for two-thirds of the country's population, and act as a vast carbon store for the world.
These forests face diverse threats: shifting cultivation expands to support a growing population; people displaced by conflict swell populations in forested areas; and a legacy of armed conflict facilitates poaching and illegal timber exploitation.
Multifaceted problems demand responses on multiple fronts. The Forest and Climate Change in the Congo (FCCC) project is responding in several ways, building capacity and supporting applied research to develop innovative solutions to practical forest management problems.
"The role of the DRC in contributing to the global effort to fight climate change is crucial, given its forest capital."
At the University of Kisangani, FCCC supports capacity building though curriculum development, teaching, supervision of Masters students and doctoral candidates, and investments in infrastructure and equipment. In North Kivu Province, CIFOR is working with WWF to establish more than 3000 hectares of woodfuel plantations outside the Virunga National Park to provide new sources of income for planters' associations while reducing illegal encroachment of the National Park. In addition, CIFOR is working with INBAR and WWF to establish bamboo nurseries and plantations.
CIFOR's partner, the Virunga Foundation is collaborating with the Institut Congolais pour la Conservation de la Nature (ICCN) to pioneer land swaps to exchange degraded areas within the park for more intact forest areas belonging to villages outside. With key project partners ICRAF, CIRAD, WWF and ICCN, CIFOR also supports a range of other applied research on charcoal value chains, agroforestry species, and a practical guide to useful tree species.
119
MSc students
trained or being trained
26
PhDs
completed or in progress
6
RESEARCH PROGRAMS
supported
2k
SQUARE METERS
office and laboratory space created at University of Kisangani
2.6k
HECTARES
area of family forests established outside Virunga National Park (2015)
CIFOR advances human well-being, environmental conservation and equity by conducting research to help shape policies and practices that affect forest landscapes in developing countries. CIFOR is a member of the CGIAR Consortium. Our headquarters are in Bogor, Indonesia, with offices in Asia, Africa and Latin America.
Research for impact
CIFOR leads the CGIAR Research Program on Forests, Trees and Agroforestry.
foreststreesagroforestry.org

CIFOR is also a member of the CGIAR Research Program on Climate Change, Agriculture and Food Security (CCAFS).
ccafs.cgiar.org
---
Flagship projects
Partners and processes
In 2015, CIFOR and its stakeholders benefited from:
---
CIFOR and its partners contribute to the following global processes, frameworks, panels and conventions:

Publications
Demand from stakeholders for CIFOR's research grew at an unprecedented pace this year. In 2015 we disseminated more than 62,000 knowledge products at events, meetings and on request.
326k
visits through Google Books
25% increase from 2014
---
Numbers
4284
media articles about CIFOR
883k
views of Forests News stories
77% increase compared to 499,000 views in 2014
15.7
million people reached with #GLFCOP21 tweets
127% increase compared to #GLFCOP20 tweets
28
major events organized or supported

3
Webometric ranking of CIFOR.org among CGIAR centers, up 4 places from 2014
17%
increase in cumulative PDF downloads
---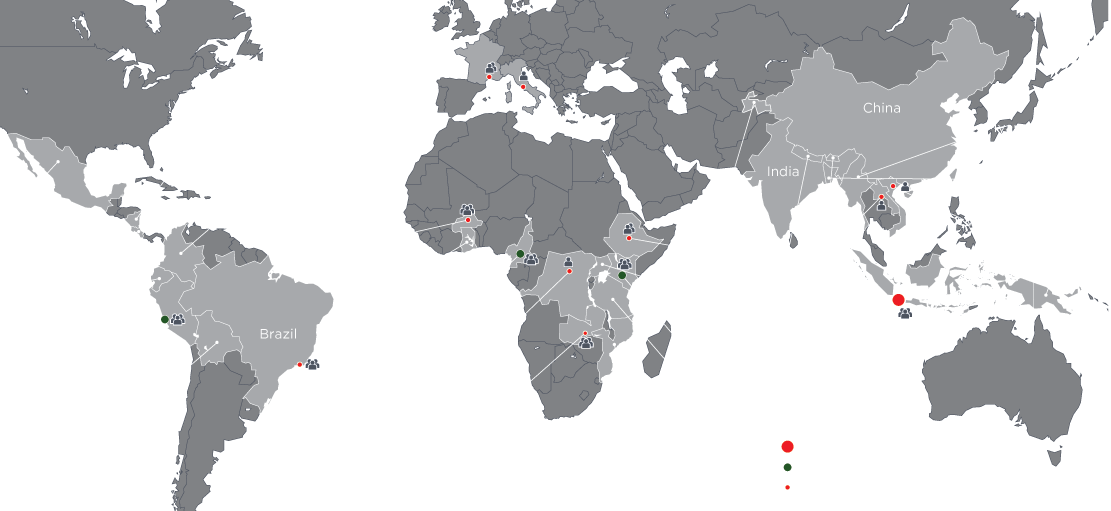 CIFOR's research is designed to have a far reach, aiming to inform policy and effect real change on the ground. We foster a strong "impact culture" through:
Each year, CIFOR's scientific findings reach more people through a communications strategy that combines journalistic approaches, social media and science communication.
35,200
total Facebook likes, 24% increase
37,733
Twitter followers, 41% increase
7.5
million
photo views on Flickr, 56% increase
564k
cumulative video views on YouTube, 36% increase
5227
LinkedIn followers, 39% increase

Top

5%

of Most-Viewed on SlideShare, with over 237k views, 42% increase
DOWNLOADS
visits through Google Books
25% increase from 2014
citations per day