Balancing timber and nuts
CIFOR's research points the way to combining sustainable harvests of timber and non-timber forest products in Amazonian Peru
For many smallholders in Peru, Bolivia and Brazil timber extraction, farming and wild collection of non-timber forest products are all integral parts of their livelihoods. Each year, these countries export tens of millions of USD in Brazil nuts to the international market. But the prevailing vision of sustainable forest management has focused on timber. No scientific studies have teased apart the trade-offs between timber and non-timber production in Peru, and regulators have focused on one or the other product, with little integration.
"These findings will help to guide the design of sustainable, integrated management plans in Brazil nut concessions, benefiting many thousands of rural families who depend on forest product extraction."
In Peru, the Forest Law of 2011 permits timber harvesting in non-timber forest product (NTFP) concessions, like those allocated for Brazil nut production, as long as the NTFP resource is not affected. But research was needed to discern what levels of timber harvesting can be sustained without affecting the Brazil nut production of neighboring trees.
A CIFOR study, published in August 2015, suggests that it is possible to extract 1–2 trees per hectare without affecting Brazil nut production; at 3–4 trees per hectare Brazil nut production may start to drop off. The research has wide implications for managing forests rich in Brazil nuts and timber species across the Amazon region.
Peru's Forest Service has incorporated CIFOR's research into the legal norms that govern timber extraction in Brazil nut concessions. For the first time since the Brazil nut concessions were created in 2000, the concurrent harvesting of Brazil nuts and timber is backed up by research generated by CIFOR.
4k
HECTARES
study location: five Brazil nut concessions in Madre de Dios, Peru
2.6
MILLION HA
area of forest rich in Brazil nut in Madre de Dios
80%
estimated level of illegal timber harvesting in the region
CIFOR advances human well-being, environmental conservation and equity by conducting research to help shape policies and practices that affect forest landscapes in developing countries. CIFOR is a member of the CGIAR Consortium. Our headquarters are in Bogor, Indonesia, with offices in Asia, Africa and Latin America.
Research for impact
CIFOR leads the CGIAR Research Program on Forests, Trees and Agroforestry.
foreststreesagroforestry.org

CIFOR is also a member of the CGIAR Research Program on Climate Change, Agriculture and Food Security (CCAFS).
ccafs.cgiar.org
---
Flagship projects
Partners and processes
In 2015, CIFOR and its stakeholders benefited from:
---
CIFOR and its partners contribute to the following global processes, frameworks, panels and conventions:

Publications
Demand from stakeholders for CIFOR's research grew at an unprecedented pace this year. In 2015 we disseminated more than 62,000 knowledge products at events, meetings and on request.
326k
visits through Google Books
25% increase from 2014
---
Numbers
4284
media articles about CIFOR
883k
views of Forests News stories
77% increase compared to 499,000 views in 2014
15.7
million people reached with #GLFCOP21 tweets
127% increase compared to #GLFCOP20 tweets
28
major events organized or supported

3
Webometric ranking of CIFOR.org among CGIAR centers, up 4 places from 2014
17%
increase in cumulative PDF downloads
---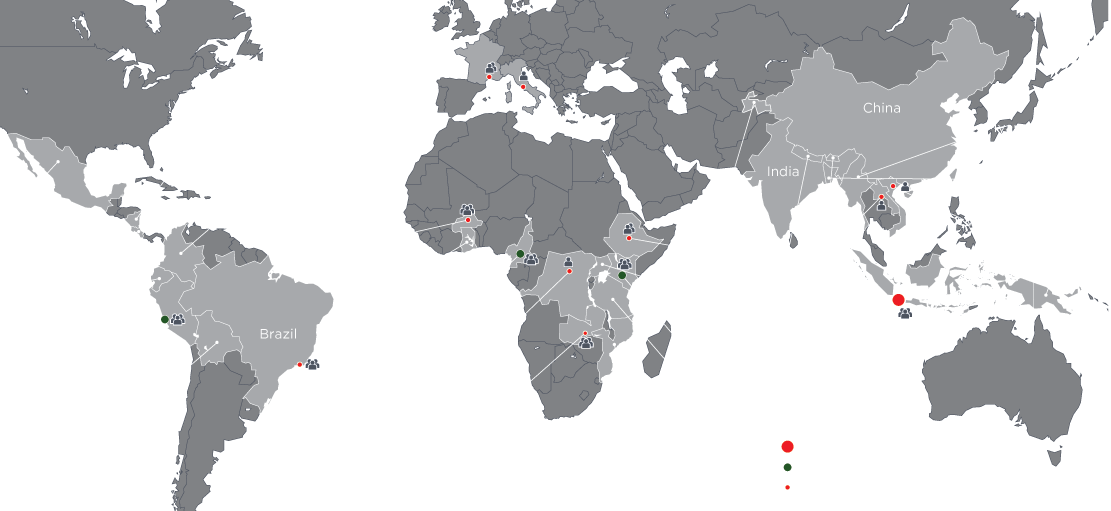 CIFOR's research is designed to have a far reach, aiming to inform policy and effect real change on the ground. We foster a strong "impact culture" through:
Each year, CIFOR's scientific findings reach more people through a communications strategy that combines journalistic approaches, social media and science communication.
35,200
total Facebook likes, 24% increase
37,733
Twitter followers, 41% increase
7.5
million
photo views on Flickr, 56% increase
564k
cumulative video views on YouTube, 36% increase
5227
LinkedIn followers, 39% increase

Top

5%

of Most-Viewed on SlideShare, with over 237k views, 42% increase
DOWNLOADS
visits through Google Books
25% increase from 2014
citations per day